더 오피스 9x17
The Farm
"The Farm" is the seventeenth episode of the ninth season of the American comedy television series The Office and the 192nd overall. It originally aired on the National Broadcasting Company on March 14, 2013. The episode guest stars Matt L. Jones as Dwight's cousin Zeke, Majandra Delfino as Dwight's sister Fannie, Blake Garrett as his nephew, and Thomas Middleditch as his brother.
The series—presented as if it were a real documentary—depicts the everyday lives of office employees in the Scranton, Pennsylvania, branch of the fictional Dunder Mifflin Paper Company. The episode revolves around Dwight Schrute and Oscar Martinez who attend the funeral of Dwight's Aunt Shirley at Schrute Farms. Dwight soon receives his aunt's property, and he and his siblings decide to run it. Meanwhile, Todd Packer returns to the office to make amends for his previous misdeeds; however, he is secretly trying to get back at them for his firing a year prior.
"The Farm" was produced to serve as a backdoor pilot for a proposed spin-off series starring Wilson as Dwight, which NBC ultimately did not pick up. The episode received mostly negative reviews from television critics, with many criticizing Dwight's farm storyline and some critics calling it a "Frankenstein episode". The episode was viewed by 3.54 million viewers and received a 1.9/5 percent rating among adults between the ages of 18 and 49. The episode ranked fourth in its timeslot, and it was the highest-rated NBC series of the night.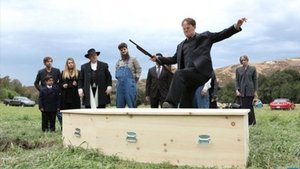 Mar. 14, 2013